Creating a Common Understanding of Culture: What Legal Professionals Need to Know
Author: Remla Parthasarathy.
Source: Volume 20, Number 06, August/September 2015 , pp.83-86(4)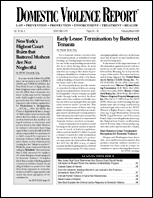 < previous article |next article > |return to table of contents
Abstract:
Imagine meeting a client, a victim of intimate partner violence, for the first time. She walks into your office wearing a saree, red powder —sindhoor— along her hair's part on her forehead, and says "hello" with an accent. You are inclined to ask her about her country of origin, her religious beliefs and practices, and how her culture has impacted her experience as a victim of domestic violence. Would you do the same if the client were a young professional from the suburbs? Should you?
Keywords: cultural identity; shared experience and commonalities; intersectionality in domestic violence; culturally competent services; Power and Control Wheel

Affiliations: 1: Niagara University.