Kari's Law Changes Hotel Policy for 911 Calls
Author: D. Kelly Weisberg.
Source: Volume 20, Number 06, August/September 2015 , pp.81-82(2 )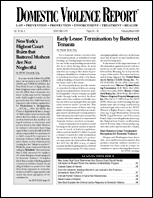 < previous article |next article > |return to table of contents
Abstract:
When Kari Hunt is murdered by her estranged husband during a custody exchange in a hotel while her eldest child tried unsuccessfully to connect to 911 Kari's father mobilizes a movement to effect change. This article reveals the unnerving statistics of franchised hotels permitting direct dialing of 911 and the resulting enhanced 911 system reform, and similar measures to improve the operations of public emergency communication services in cases of emergencies.
Keywords: multiline telephone system; access code; calling 911 from a business line; direct dialing of 911

Affiliations: 1: Editor, Domestic Violence Report.