Meeting Survivors Where They Are: How Technology Has Improved Advocacy
Author: Amanda Kippert.
Source: Volume 20, Number 05, June/July 2015 , pp.72-72(1)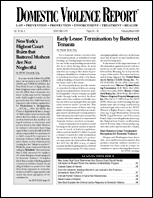 < previous article |next article > |return to table of contents
Abstract:
While advocates work to educate survivors on the best ways to protect themselves against the challenges of cyberstalking, technology has also given survivors their own leg up, by offering more ways than ever to instantly access information and help. What the Hotline is to telephones and conversation for victims, DomesticShelters.org is to the Internet, allowing victims to be able to privately learn and plan.
Keywords: DomesticShelters.org; Theresa's Fund; safety plans; survivors' stories

Affiliations: 1: journalist, feature writer.