Components of Batterer Intervention Programs That Promote Victim Safety
Author: Cheryl R. Davis.
Source: Volume 20, Number 05, June/July 2015 , pp.67-68(2)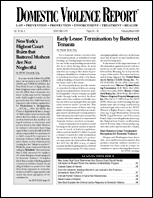 < previous article |next article > |return to table of contents
Abstract:
Although there is some disagreement and controversy over whether batterer intervention programs (BIP) reduce recidivism, there is important evidence that these programs can promote victim safety. Discussed here are the key components that need to be implemented for effective BIPs and offender containment efforts.
Keywords: coordinated community response; offender risk assessment; offender accountability; team decisionmaking; victim advocacy; protection of victim confidentiality

Affiliations: 1: Colorado Division of Criminal Justice.