Safety Planning for Our First Responders
Author: Mark Wynn.
Source: Volume 20, Number 05, June/July 2015 , pp.65-67(3)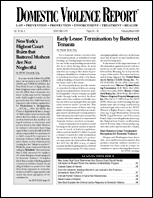 next article > |return to table of contents
Abstract:
Not all domestic violence calls result in injury, but many do—the question that must be asked is what happens just before that critical break point, before a victim or officer is harmed responding to a domestic violence call? Drawing on more than 20 years of field experience, this article examines the common and predictable sequence of events that often occur in a DV call. Mark Wynn describes the most important danger assessment protocols, cites examples of productive advocate-police relationships, highlights effective tactics such as post-arrest victim visits to help navigate the court system and conduct risk assessments, and stresses the need for ongoing training for first responders throughout their careers.
Keywords: domestic violence homicides; culture of male privilege; Power and Control Wheel; Enhanced Police Intervention Collaboration; domestic violence checklist; intelligence-led policing

Affiliations: 1: Nashville Metro Police Dept (Ret.).