Case Summaries
Author: Anne L. Perry.
Source: Volume 20, Number 04, April/May 2015 , pp.56-57(2)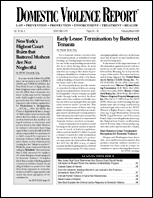 < previous article |next article > |return to table of contents
Abstract:
Our regular review of significant cases includes a New Hampshire Supreme Court decision that found that parental rights had been properly terminated where a father had solicited the murder of a child's mother; a California case in which a custody order awarding visitation rights to an abusive husband was reversed because the court had failed to consider assaults by the husband against his wife; and a New York case in which an NYPD officer's assurance that a woman would be protected from an abusive husband created a special "duty that generates justifiable reliance by the person who benefits from the duty"—a duty the municipality failed to meet when the husband subsequently attacked and seriously injured the woman.
Keywords: "Best interest of the child" legal standard; Improper custody order modifications; Failure to protect

Affiliations: 1: Contributing Editor.