Research Review: Important New Research on Lethality and Also on Exposure to Domestic Violence
Author: D. Kelly Weisberg.
Source: Volume 20, Number 04, April/May 2015 , pp.55-56(2)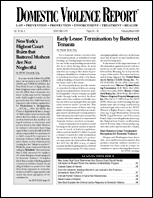 < previous article |next article > |return to table of contents
Abstract:
This article reviews two recent studies, one on the factors that contribute to the lethality of intimate partner violence, and one on children's exposure to domestic violence. "Intimate Partner Homicide: New Insights for Understanding Lethality and Risks" by Brynn E. Sheehan, Sharon B. Murphy, Mary M. Moynihan, Erin Dudley-Fennessey & Jane G. Stapleton, in the journal Violence Against Women [Vol. 21(2):269-288 (2015)] sheds light on acute risk factors prior to the homicide by means of interviews with family members and close friends of victims. The second, "Lasting Effect of Intimate Partner Violence Exposure During Preschool on Aggressive Behavior and Prosocial Skills" by Megan R. Holmes, Laura A. Voith & Andrea N. Gromoske, in Journal of Interpersonal Violence [1-20 (2014) ] reveals the gender-based negative effects on children's social development of the act of witnessing domestic violence. Both studies suggest ways to improve interventions in order to prevent permanent harm.
Keywords: intimate partner homicide; IPV exposure

Affiliations: 1: Hastings College of the Law.