U.S. Supreme Court to Decide Henderson Case: Scope of Felon's Ownership Rights to Firearms
Author: D. Kelly Weisberg.
Source: Volume 20, Number 04, April/May 2015 , pp.49-50(2)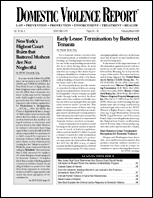 < previous article |next article > |return to table of contents
Abstract:
The Supreme Court will consider a firearms case this term that addresses the limits of the federal law that bans felons from possessing firearms. In the case of Henderson v. United States, Henderson contends that he has a constitutional right to decide what happens to his private property (his firearms) after his conviction for a crime that was unrelated to his gun ownership. Domestic violence advocates should be concerned that if Henderson prevails, convicted felons will be able to transfer their firearms to friends or relatives and later regain their weapons to use to inflict violence on their intimate partners. Kelly Weisberg analyzes the facts of Henderson, the precedents parties in the case will invoke, and the legal issues likely to emerge depending on the final outcome.
Keywords: Heller v. District of Columbia , 554 U.S. 570; United States v. Howell , 425 F.3d 971 (11th Cir. 2005); 18 U.S.C § 922(g)

Affiliations: 1: Hastings College of the Law.