Domestic Violence Portrayed in a Film Classic
Author: Bettina Aptheker.
Source: Volume 20, Number 03, February/March 2015 , pp.37-38(2)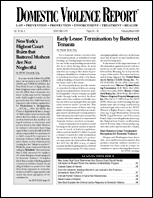 < previous article |next article > |return to table of contents
Abstract:
A Jury of Her Peers is based on the trial of Margaret Hossack for the murder of her abusive husband in 1900 in Iowa. The men are concerned with establishing a creditable motive for the murder. The women discover that Minnie Foster has strangled her husband to avenge the murder of the canary and, no doubt, years of abuse a discovery they hide from their husbands in a silent, swift, and stunning solidarity. The film provides high school and college teachers, and community activists with a profound opportunity to discuss domestic violence as a perennial issue in women's lives originally rooted in men's legal ownership of women, who lacked even the most basic of civil rights.
Keywords: State v. Hossack; contemporary laws governing domestic violence; justifiable homicide; temporary insanity; self-defense; diminished capacity; Violence Against Women Act

Affiliations: 1: University of California.