Complete Issue
Author: D. Kelly Weisberg.
Source: Volume 20, Number 02, December/January 2015 , pp.17-32(16)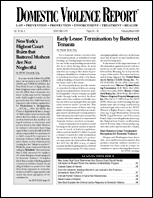 < previous article |return to table of contents
Abstract:
This is the complete issue, Volume 20 Number 2. It includes the full text of all the articles listed above, with hyperlinks from table of contents entries to articles and linked article continuations, to facilitate reading.
Keywords: Ray Rice video; Janay Rice; Keith Olbermann; John Stewart; NFL Commissioner Roger Goodell; Personal Conduct Policy; Ray McDonald; Jameis Winston; international definition of "refugee"; Aminta Cifuentes; Guatemala; three-prong test; El Salvador; H

Affiliations: 1: Editor, Domestic Violence Report.