Case Summaries
Author: Anne L. Perry, Esq..
Source: Volume 20, Number 02, December/January 2015 , pp.24-26(3)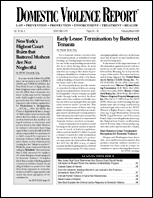 < previous article |next article > |return to table of contents
Abstract:
This column summarizes and discusses recent court cases of interest to readers of DVR, including: S.A. v. Maiden, 176 Cal. Rptr. 3d 567 (Cal. Ct. App. 2014); State v. Parvilus, 332 P.3d 281 (N.M. 2014); State v. Conrad, 2014 WL 1691300 (Ohio Ct. App. 2014); and State v. White, 2014 WL 1384082 (Ohio Ct. App. 2014).
Keywords: anti-SLAPP statute; spouse's separate dwelling; definition of cohabitation

Affiliations: 1: Contributing Editor of DVR.