Intimate Partner Violence Offenders Who Flee the Scene Are Likely to Avoid Arrest
Author: David Hirschel, Ph.D. .; Eve Buzawa, Ph.D..
Source: Volume 20, Number 02, December/January 2015 , pp.19-22(4)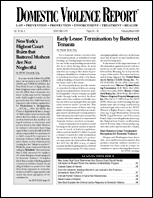 < previous article |next article > |return to table of contents
Abstract:
Research indicates that the advent of mandatory and pro-arrest laws and departmental polices have resulted in far higher offender arrest rates. While arrest rates from data collected in the l970s and l980s were generally in the 7% to 15% range, more recently these rates have been observed generally to be in the 35% to 50% range and even as high as 75%. Researchers have correctly assumed that there would be variations in arrest rates based on a variety of incident, victim, offender, officer/organization, and community characteristics. However, the focus has typically not addressed how offender behavior after the incident may affect arrest rates. As a result, a highly disconcerting fact has been concealed in the statistics: Offenders who leave the scene before the police arrive are far more likely to avoid arrest than offenders who remain on the scene. This article discusses recent studies disclosing this disturbing fact and suggest practical reforms to remedy the problem.
Keywords: difference in arrest rates

Affiliations: 1: University of Massachusetts, Lowell; 2: University of Massachusetts, Lowell.