Will the NFL "Get It Right" and Move the Dial for Social Change?
Author: Casey Gwinn, J.D.
Source: Volume 20, Number 02, December/January 2015 , pp.17-21(5)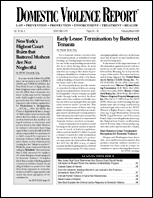 next article > |return to table of contents
Abstract:
In the fall of 1994, Time Magazine reported polling on the American people's interest in, and knowledge about, domestic violence. Ninety-five percent of Americans identified domestic violence as a major social issue that needed to be addressed.1 In the wake of former NFL football player O.J. Simpson's arrest and prosecution for the murder of Nicole Brown Simpson, it looked as if we had reached critical mass in social change theory. But the moment passed. Domestic violence faded away from the top of the list. To be sure, the dial did move slightly and briefly and it has continued to move slowly. Today, we are, again, at a pivotal moment, a moment as significant as the murder of Nicole Brown Simpson. A more educated and engaged media is challenging business leaders, elected officials, and NFL executives on their views around domestic violence and sexual assault. This article includes recommendations for NFL action and new procedures in the wake of the Ray Rice and other revelations, and has a sidebar "What Should We Be Doing?" regarding personal actions, and an additional "What More Should We be Doing?"
Keywords: Ray Rice video; Janay Rice; Keith Olbermann; John Stewart; NFL Commissioner Roger Goodell; Personal Conduct Policy; Ray McDonald; Jameis Winston

Affiliations: 1: former elected City Attorney of San Diego.