Suing: Domestic Violence Cases in Civil Court
Author: Fredrica L. Lehrman, Esq..
Source: Volume 01, Number 01, October/November 1995 , pp.1-2(2)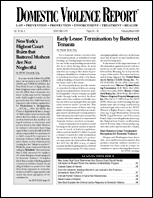 next article > |return to table of contents
Abstract:
Domestic violence tort law is growing by leaps and bounds as attorneys creatively apply existing tort law to domestic violence situations. A person who has been injured by domestic violence may initiate a tort suit based on any act punishable as a criminal offense. This article discuses the trend.
Keywords: interspousal immunity; continuing tort; Curtis v. Firth, 850 P.3d 749 (Idaho 1993); Lindaburg v. Lindaburg, 552 So. 2d 117 (Fla. Dist. Ct. App. 1989) Hedda Nussbaum; Joel Steinberg

Affiliations: 1: Shaw, Pittman, Potts & Trowbridge.