Complete Issue
Author: Joan Zorza, Esq..
Source: Volume 01, Number 02, December/January 1996 , pp.1-16(16)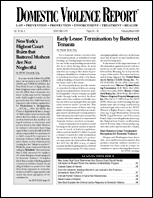 < previous article |return to table of contents
Abstract:
This is the complete issue, Volume 1 Number 2. It includes the full text of the articles listed above, with hyperlinks from table of contents entries to articles and linked article continuations, to facilitate reading.
Keywords: prior dating violence research; risk of future violence; "get", the Jewish religious divorce; agunah, a woman enchained; ABA Report, The Impact of Domestic Violence on Children; "Bad Mothers, Good Mothers, and the State: Children on the Margins

Affiliations: 1: Editor, Domestic Violence Report.