From The Bookshelf
Author: Susan Adelsberg.
Source: Volume 01, Number 02, December/January 1996 , pp.14-15(2)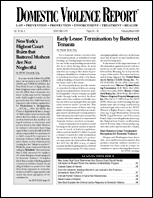 < previous article |next article > |return to table of contents
Abstract:
The Summer, 1995 issue of the Family Law Quarterly is dedicated entirely to domestic violence, covering new and timely issues. Some of the articles discuss provisions of the newly enacted federal Violence Against Women Act. This article discusses some of the contents, including "Recognizing and Protecting the Privacy and Confidentiality Needs of Battered Women", by DVR Editor Joan Zorza; "Child Abuse and Domestic Violence: Legal Connections and Controversies", by Howard Davidson. The column also discusses the entire issue of the University of Chicago Law School Roundtable, 2 U. Chi. L. Sch. Roundtable 1 (1995): "Symposium: Domestic Violence, Child Abuse, and the Law".
Keywords: ABA Report, The Impact of Domestic Violence on Children; "Bad Mothers, Good Mothers, and the State: Children on the Margins", by Bernardine Dohrn

Affiliations: 1: Fordham Law School.