Domestic Violence in the Jewish Community
Author: Staff Editors.
Source: Volume 01, Number 02, December/January 1996 , pp.1-2(2)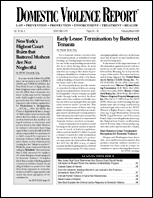 < previous article |next article > |return to table of contents
Abstract:
Most of the religious and cultural reasons that make Jews blind to domestic violence and unwilling to assist its victims are set forth in an excellent article written by St. Thomas University School of Law Professor Beverly Horsburgh, which appeared in the Spring 1995 issue of the Harvard Women's Law Journal. Because family is so valued and such a central part of Judaism, any Jewish woman who is battered feels that she has completely failed her community, her religion, and her role as a wife and the one responsible for keeping her family well and happy. In addition, most Jews are ashamed to show any weaknesses within their community to the outside world, knowing that anti-Semitism still exists. There is an accompanying brief article, "Rabbinical Court Intervenes to Free Victims".
Keywords: "get", the Jewish religious divorce; agunah, a woman enchained

Affiliations: .