Dating Violence Among Adolescent Batterers: A Profile of Restraining Order Defendants in Massachusetts
Author: Sandra L. Adams.; Nancy E. Isaac.; Donald Cochran.; Marjorie E. Brown.
Source: Volume 01, Number 02, December/January 1996 , pp.1-3(3)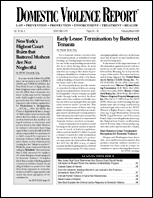 next article > |return to table of contents
Abstract:
On September 8, 1992 the Office of the Commissioner of Probation in Massachusetts implemented the Registry of Civil Restraining Orders (the "Registry"), the nation's first legislatively mandate statewide, centrally computerized, domestic violence record keeping system. The Registry was created in response to the need for a centralized database accessible by judicial and law enforcement agencies for the tracking and enforcement of domestic violence restraining orders (ROs). The Registry database contains information regarding the specific conditions of each RO, the age and gender of each batterer, and any history of court arraignments for delinquent and criminal behavior that any defendant may have. Data is entered into the registry on the same day that the order is issued by any one of Massachusetts' 97 district, superior, and probate courts. Approximately 50,000 RO cases were entered into the Registry in 1993. They are tabulated and summarized here. A sidebar offers excerpts from testimony indicating the severity and scope of the issue.
Keywords: prior dating violence research; risk of future violence

Affiliations: 1: Probation for the Commonwealth of Massachusetts; 2: Harvard School of Public Health; 3: Probation for the Commonwealth of Massachusetts; 4: Probation for the Commonwealth of Massachusetts.