Even Strongly Worded Statute May Not Prevent Batterer From Receiving Custody
Author: Staff Editors.
Source: Volume 01, Number 03, February/March 1996 , pp.7-8(2)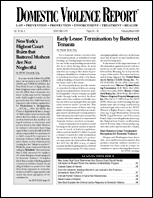 < previous article |next article > |return to table of contents
Abstract:
Simmons v. Simmons, 649 So. 2d 799 (La. App. 1995) is a disappointing case, particularly in view of Louisiana's excellent custody statute. That statute, (La. Rev. Stat. § 9:364(A) is one of the country's best in attempting to benefit battered women in custody cases where domestic violence has occurred. The statute contains an adverse presumption against awarding custody to any parent with a history of perpetrating domestic violence. Simmons is significant because it appears that even a strongly-worded statute may not prevent an award of custody to an admitted batterer. This article discusses the background and progress of the case.
Keywords: In the Interest of AC, 643 So. 2d 743 (La. 1994)

Affiliations: .