Notifying Victims Of Perpetrator's Release: A New System May Save Lives
Author: Senlin E. Ward.
Source: Volume 01, Number 03, February/March 1996 , pp.1-2(2)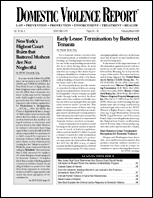 next article > |return to table of contents
Abstract:
In December of 1993, Donovan Harris was charged with kidnapping and raping his 20- year-old girlfriend, Mary Byron, at gun point. He was later released on bond, but since no concrete system existed in Jefferson County, Kentucky to notify victims of a perpetrator's release, nobody warned Mary Byron of this event. Two weeks later, on her 21st birthday, Byron was shot and killed after leaving her job at a local shopping mall. Harris subsequently was convicted of her murder. After the shooting, Jefferson County Judge/Executive David L. Armstrong pledged to develop a notification process for victims to prevent further tragedies. He called together the heads of all of the county's criminal justice agencies, and received $50,000 from Jeffersontown, Byron's hometown, to implement a county-wide notification system. Specifications for the system were put out to bid. The successful vendor met with corrections staff, county data processing specialists, representatives of the Jefferson County Office for Women and others in the community to ensure the system would meet everyone's needs. A county victim notification system was established. This article describes its design and results.
Keywords: Victim Information and Notification Everyday; VINE

Affiliations: 1: Jefferson County Office for Women .