New Jersey Holds "I'll Bury You" and Profaning Spouse's Lover Are Not Harassment
Author: Staff Editors.
Source: Volume 01, Number 04, April/May 1996 , pp.7-8(2)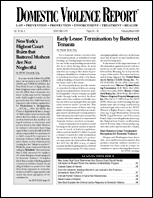 < previous article |next article > |return to table of contents
Abstract:
In Peranio v. Peranio, 654 A.2d 495 (N.J. Super. 1995), the Superior Court, Appellate Division of New Jersey, reversed the issuance of a restraining order, finding that the conduct complained of did not constitute "harassment" under the New Jersey Prevention of Domestic Violence Act. N.J. Stat. Ann. 2C:25-17, et seq (1991).
Keywords: State v. L. C. (NJ)

Affiliations: .