A Typical Week of Restraining Orders in Massachusetts
Author: Staff Editors.
Source: Volume 01, Number 04, April/May 1996 , pp.3-5(3)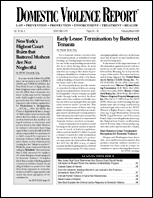 < previous article |next article > |return to table of contents
Abstract:
Since September 8, 1992, Massachusetts has had the nation's first mandatory statewide, centrally computerized domestic violence record keeping system. Each restraining order in Massachusetts is entered into the Massachusetts Registry of Civil Restraining Orders (the "Registry) on the same day it is issued by one of the state's 97 district, superior or probate courts. The restraining order data is linked by computer to probation information about the juvenile and adult criminal history for any defendant, thereby enabling the Commonwealth's Commissioner of Probation, Donald Cochran, to study numerous aspects of domestic violence using these records and the material from the court files. This summarizes the results, including a single week in which 1000 restraining orders was issued.
Keywords: judges and restraining orders

Affiliations: .