New Health Care Books
Author: Staff Editors.
Source: Volume 01, Number 04, April/May 1996 , pp.1-2(2)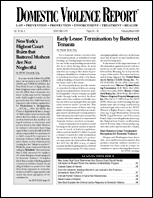 < previous article |next article > |return to table of contents
Abstract:
This article contains reviews of several recent texts on various health issues relating to domestic violence, including Michele Harway and Marsali Hansen's, "Spouse Abuse: Assessing & Treating Battered Women, Batterers, & Their Children"; "Abused Women and Survivor Therapy", by Lenore E.A. Walker; "Male Violence Against Women at Home, At Work, and In the Community", by Mary P. Koss, Lisa A. Goodman, Angela Browne, Louise F. Fitzgerald, Gwendolyn Puryeer Keita, and Nancy Felipe Russo; "Psychology in Litigation and Legislation", edited by Bruce D. Sales and Gary R. VandenBos; "The Batterer: A Psychological Profile", by Donald G. Dutton, with Susan K. Golant.
Keywords: DSM-IV Diagnoses; Julie Blackman

Affiliations: .