Disciplining Attorneys Who Have Battered Their Partners
Author: Heidi L. McNeil, Esq..
Source: Volume 01, Number 04, April/May 1996 , pp.1-3 (3)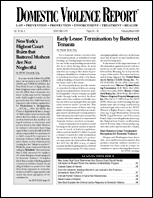 next article > |return to table of contents
Abstract:
The first issue of DVR reported the case of In the Matter of Salvatore Principato, 655 A.2d 920 (N.J. 1995), which established that, in the future, New Jersey ordinarily will suspend any attorney who is convicted of domestic violence acts. This article explores more of the cases behind the trend to adopt disciplinary sanctions against attorneys and judges for domestic violence offenses.
Keywords: American Bar Association's Model Code of Professional Conduct; In the Matter of Lawrence G. Magid; In re Nevill, 217 Cal. Rptr. 841 (1985); People v. Knight (CO); People v. Wallace (CO); In re Walker, Jr. (IN); In re Runyon (IN); Committee on Profe

Affiliations: 1: Snell & Wilmer.