African-American Women's Experiences With Abuse
Author: Staff Editors.
Source: Volume 01, Number 06, August/September 1996 , pp.6 -7(2)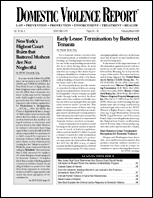 < previous article |next article > |return to table of contents
Abstract:
Professor Linda L. Ammons, who was largely responsible for Ohio Governor Celeste's grants of clemency to convicted battered women, discusses the inadequacies of BWS as applied to women of color, and particularly to African- American battered women. In "Mules, Madonnas, Babies, Bathwater, Racial Imagery and Stereotypes: The African–American Woman and the Battered Woman Syndrome", 5 Wis. L. Rev. 1003–1080 (1995), Ammons observes that given the racial stereotypes that we have of African–American women, they are almost never seen as the helpless victims of battering necessary to meet the criteria that are now associated with BWS. Beth Richie's newest book, "Compelled to Crime: The Gender Entrapment of Battered Black Women", advances the analysis of BWS still further to show that some African-American battered women experience "gender entrapment" that leads them into criminal activities.
Keywords: Riker's Island Correctional Facility

Affiliations: .