Battered Women Behave Like Other Threatened Victims
Author: Joan Zorza, Esq..
Source: Volume 01, Number 06, August/September 1996 , pp.5-5(1)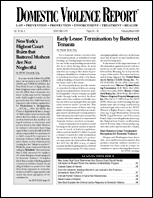 < previous article |next article > |return to table of contents
Abstract:
Battered women do not behave any differently than other victims who fear further abuse. Battered women were no more likely to want to drop charges than were the recontacted victims (male and female) of these other felonies. Which is to say, battered women behave no worse than any other terrified victims threatened with further abuse, and probably behave with considerably more courage. What is different is not the behavior of the victims, but the behavior of the criminals involved.
Keywords: San Diego

Affiliations: 1: Editor, Domestic Violence Report.