Criminal Liability for Spouse's Uninvited Entry
Author: Nancy K. D. Lemon, Esq..; Annie Perry, Esq..
Source: Volume 01, Number 06, August/September 1996 , pp.3-6(4)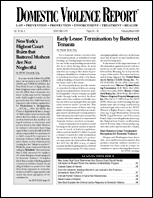 < previous article |next article > |return to table of contents
Abstract:
A number of courts have recently addressed the issue of whether a defendant's uninvited entry into the home or onto the premises of his estranged wife or girlfriend gives rise to criminal liability for trespass or burglary. Whether the victim obtained a restraining order against the defendant is often determinative on the question of the defendant's right to enter the premises. This article discusses recent cases on the matter.
Keywords: State v. Steed (NH); Commonwealth v. Beckwith (PA); US v. Dixon and Foster; State v. Peck (Iowa); People v. Davenport (CA); Ellyson v. State (IN); State v. Dively (IN); People v. Pohl (MI); State v. Stallings (MO); Stanley v. State (TX); Ex parte Da

Affiliations: 1: Associate Editor of DVR; 2: Associate Editor of DVR.