Stark and Flitcraft on Battering and Women's Health
Author: Staff Editors.
Source: Volume 01, Number 06, August/September 1996 , pp.1-3(3)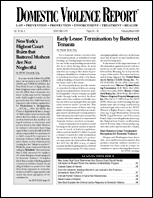 < previous article |next article > |return to table of contents
Abstract:
In a new and important book, Evan Stark and Anne Flitcraft have updated many of their articles on woman battering in "Women at Risk: Domestic Violence and Women's Health". Their book reveals just how much at the forefront they were in their pioneering work, first in opening up their home as a shelter in New Haven in 1976 and a year later in beginning the first research on the medical response to violence. Originally their goals were to document how epidemic the battering of women was and the significance of the abuse on the women's lives. Only after examining many medical records did Stark and Flitcraft realize the inappropriateness and counter-productiveness, of the traditional medical interventions most likely to be used. Thus, they determined that they needed to propose new ways to improve the clinical response. This column also discusses the American Psychological Association Report on Family Violence,
Keywords: Support mandatory arrests; APA's ten–member Task Force on Violence and the Family: Ralph E. Fox, Lenore E. Walker, J. Renae Norton, Christine A. Courtois, Mary Ann Dutton, Robert Allen Geffner, W. Rodney Hammond, Chris Hatcher, Janis Sanchez and

Affiliations: .