Recent Custody Cases Involving Domestic Violence
Author: Staff Editors.
Source: Volume 02, Number 01, October/November 1996 , pp.5-7(3)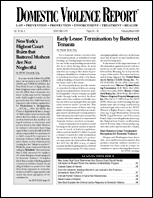 < previous article |next article > |return to table of contents
Abstract:
Recent cases on the title subject are summarized and discussed, including: Schaaf v. Schaaf (WI); Heck v. Reed (ND); Krank v. Krank (ND); Helbling v. Helbling (ND); Owan v. Owan (ND); Ryan v. Flemming (ND); Bruner v. Hager (ND); Gant v. Gant (MO).
Keywords: evidence of abuse; specific findings of domestic violence in custody cases; statutory presumption against awarding custody to perpetrators of domestic violence

Affiliations: .