Women, Welfare, Work, and Battering
Author: Joan Zorza, Esq..
Source: Volume 02, Number 01, October/November 1996 , pp.4-5(2)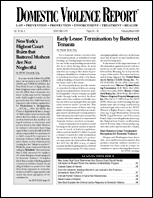 < previous article |next article > |return to table of contents
Abstract:
The following publications on the subject are summarized and discussed: "Prisoners of Abuse: Domestic Violence and Welfare Receipt: A Second Report of the Women, Welfare and Abuse Project" (The Taylor Institute); "Report from the FRONT LINES: The Impact of Violence on Poor Women" (NOW Legal Defense and Education Fund); "Family Violence and Welfare Reform: What Are the Links?: Recommendations From The National Invitational Symposium, sponsored by the University of Utah Graduate School of Social Work on May 17 and 18, 1996"; Demie Kurz, "For Richer, For Poorer: Mothers Confront Divorce"; Demie Kurz, "Separation, Divorce, and Woman Abuse"; Ruth Sidel, "Keeping Women and Children Last: America's War on the Poor".
Keywords: New York City welfare-to-work program

Affiliations: 1: Editor, Domestic Violence Report.