Three More State Stalking Statutes Withstand Constitutional Challenges: Michigan, California and Illinois
Author: Nancy K. D. Lemon, Esq..; Annie Perry, Esq..
Source: Volume 02, Number 01, October/November 1996 , pp.3-5(3)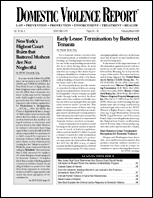 < previous article |next article > |return to table of contents
Abstract:
Despite contentions that stalking statutes would never withstand constitutional challenge, most courts are upholding them. In the first issue of DVR it was reported that Florida and Indiana courts had upheld the stalking statutes in those states. Here three more successful statutes are discussed.
Keywords: People v. White, 536 N.W.2d 876 (Mich. Ct. App. 1995); People v. McClelland, 49 Cal. Rptr. 2d 587 (Ct. App. 1996); People v. Heilman (CT); People v. Carron (CA); People v. Bailey (IL); People v. Soto (IL)

Affiliations: 1: Associate Editor of DVR.