Review of Recent Domestic Violence Protective Order Cases
Author: Staff Editors.
Source: Volume 02, Number 02, December/January 1997 , pp.23-26(4)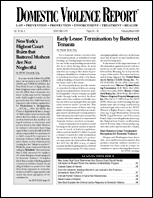 < previous article |next article > |return to table of contents
Abstract:
This article summarizes and discusses recent cases on the title subject, including: State v. Hauge (SD); Commonwealth v. Butler (MA); State v. Conti (RI); Coburn v. Coburn (MD); R.G. v. T. D. (PA); A. B. v. L. M. (NJ)' Carfagno v. Carfagno (NJ); State v. Sundquist (ND); Laluzerne v. Stange (WI); Baker v. Baker (OK).
Keywords: "verbal contact"; restraining order not set aside by reconciliation; factors to dissolve restraining order; Gibilisco

Affiliations: .