Washington Watch DVR0202
Author: Sheila Wellstone.
Source: Volume 02, Number 02, December/January 1997 , pp.21-21(1)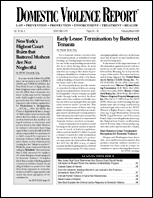 < previous article |next article > |return to table of contents
Abstract:
This column recaps recent activity in Congress on matters of interest to readers of DVR.
Keywords: Interstate Stalking Punishment and Prevention Act of 1996; disarming domestic violence offenders; immigrant women; Pam Lyncher Sexual Offender Tracking and Identification Act; Child Abuse Prevention and Treatment Act; Wellstone/Murray Family Violence

Affiliations: 1: Advisory Council On Violence Against Women.