When Abusers Choke Their Victims
Author: Staff Editors.
Source: Volume 02, Number 02, December/January 1997 , pp.17-17(1)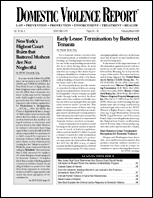 < previous article |next article > |return to table of contents
Abstract:
Choking is one of the most frequent tactics used by abusers, but it usually leaves few marks. Consequently, police seldom recognize its signs or understand its seriousness. Choking is often life threatening and may provide grounds to charge the choking perpetrator with attempted murder. However, police seldom arrest the abuser who chokes, and worse, may arrest the victim who acts in self-defense to save her own life. A victim may be arrested when, caught in a choke hold, she bites the abuser in the armpit, chest or arm. Police need to investigate all choking situations and recognize when choking victims need medical assistance. Above all, they should not arrest victims defending themselves. This article focuses on one city's program to address the issue.
Keywords: San Diego; Polaroid Corporation; lack of documentation in choking

Affiliations: .