Necessary Issues for Understanding Battered Women
Author: Mary Ann Dutton, Ph.D..
Source: Volume 02, Number 03, February/March 1997 , pp.33-35(3)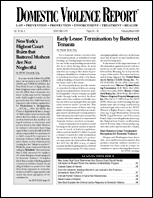 next article > |return to table of contents
Abstract:
The legal system has begun to recognize violence against women as a major social and criminal justice problem. More women are assaulted, beaten, raped, and killed by a current or former intimate partner than by anyone else. What has been less well articulated, however, is the role domestic violence plays in the behavior of its victims. This paper briefly presents an analysis of three important issues related to domestic violence as they impact on battered women's behavior: (1) battered women's resistance to the violence and abuse, (2) obstacles battered women face in leaving, and (3) the traumatic effects of violence victimization.
Keywords: resistance to domestic violence; obstacles in leaving; substance abuse of victims; Stockholm Syndrome

Affiliations: 1: George Washington University Law Center.