New Studies on Domestic Violence and Welfare Reforms; Many Welfare Reforms Constitute Human Rights Violations
Author: Staff Editors.
Source: Volume 02, Number 05, June/July 1997 , pp.69-70(2)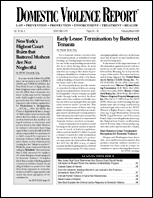 < previous article |next article > |return to table of contents
Abstract:
In February 1995, Massachusetts enacted many changes to its welfare laws that mirror some of the changes now mandated under federal welfare reform. Two studies of that state's changes shed new light on welfare reform.
Keywords: survey of the state's [MA] female AFDC population; "In Harm's Way?: Domestic Violence, AFDC Receipt, and Welfare Reform in Massachusetts"; Welfare and Human Rights Monitoring Project of the Unitarian Universalist Service Committee; new welfar

Affiliations: .