Three Promising New York Court Cases
Author: Staff Editors.
Source: Volume 02, Number 05, June/July 1997 , pp.68-68(1)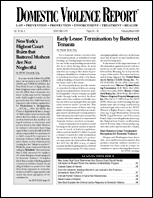 < previous article |next article > |return to table of contents
Abstract:
This article summarizes and briefly discusses three cases of interest to readers of DVR, including the sensational Lisa Steinberg murder case and its aftermath, in Nussbaum v. Steinberg, No. 23416/88 (NY Supreme Court); also Reich v. Reich, 1/14/97 N.Y.L.J. 29, (col. 5) and Casivant v. Green County Community Action Agency, Inc., 652 N.Y.S.2d 115 (Sup. Ct. App. Div. 1996).
Keywords: Hedda Nussbaum permitted to sue Joel Steinberg

Affiliations: .