Complete Issue
Author: Joan Zorza .
Source: Volume 02, Number 06, August/September 1997 , pp.81-96(16)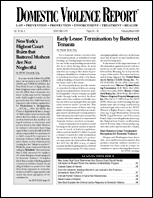 < previous article |return to table of contents
Abstract:
This is the complete issue, Volume 2 Number 6. It includes the full text of all the articles listed above, with hyperlinks from table of contents entries to articles and linked article continuations, to facilitate reading.
Keywords: children's exposure to domestic violence; failure of research to cross disciplines; the 1990 arson fire of the Happyland Social Club in the Bronx; Los Angeles County Child Death Review Team; goals of team; five categories of abuse; conceptual imper

Affiliations: 1: Editor, Domestic Violence Report.