From the Bookshelf
Author: Nancy K. D. Lemon .; Joan Zorza.
Source: Volume 02, Number 06, August/September 1997 , pp.91-93(3)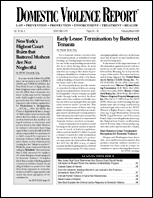 < previous article |next article > |return to table of contents
Abstract:
The following publications are reviewed: "Family Violence Across the Lifespan: An Introduction", by Ola W. Barnett, Cindy L. Miller–Perrin and Robin D. Perrin; "Helping Battered Women: New Perspective and Remedies", by Albert R. Roberts; "Understanding Violence Against Women", edited by Nancy A. Crowell and Ann W. Burgess; "On the Other Side of Silence: Affective Lawyering for Intimate Abuse", by Linda G. Mills; "Representation of Domestic Violence Survivors as a New Paradigm of Poverty Law: In Search of Access, Connection, and Voice", by Peter Margulies and (jointly) "Political Lawyering, One Person at a Time: The Challenge of Legal Work Against Domestic Violence for the Impact Litigation/Client Service Debate", by Peter Margulies; "Neurology of Violence", by Peter Volava; "Battered Asian American Women: Community Responses from the Battered Women's Movement and the Asian-American Community", by Karin Wang.
Keywords: role of lawyers as domestic violence advocates; "affective lawyering"

Affiliations: 1: Associate Editor of DVR; 2: Editor, Domestic Violence Report.