Making the Invisible Victims of Domestic Violence Visible
Author: Wanda K. Mohr, Ph.D., R.N..
Source: Volume 02, Number 06, August/September 1997 , pp.81-82(2)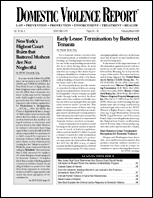 next article > |return to table of contents
Abstract:
Domestic violence against women is a widely recognized problem. Over one million women each year are violently assaulted by an intimate partner. But women are not the only victims of domestic violence. Children of battered women are the nation's invisible victims of domestic violence. One third of the calls for police assistance in the United States are for domestic violence, but how many of these cases involve child witnesses is not known. It is estimated that every year 3.3 million American children are exposed to violent incidents between parents (though estimates have ranged from three to ten million children). Children are invisible victims because little attention is focused on them at the time of the police intervention and because so little research or public policy initiatives have centered on the developmental consequences of witnessing adult on adult violence. This article discusses the issue.
Keywords: children's exposure to domestic violence; failure of research to cross disciplines

Affiliations: 1: University of Pennsylvania, School of Nursing.