Victims' Rights Amendment Helps Battered Women More Than Other Women
Author: Joan Zorza.
Source: Volume 03, Number 01, October/November 1997 , pp.1-3(3)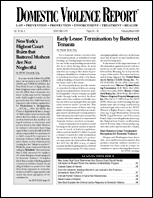 next article > |return to table of contents
Abstract:
The proposed constitutional amendment to the US Constitution has been very controversial among battered women's advocates. If enacted it would give all victims the following rights to be notified about and attend all public proceedings related to the crime, to present a written or oral victim impact statement, to receive notice of when their offender is released or escapes from custody, to receie an order of restitution from their convicted offender, and to receive consideration of their safety in determining any release from custody by their offender. This article discusses arguments for and against.
Keywords: State v. Muhammed

Affiliations: 1: Editor, Domestic Violence Report.