Our Clients May Affect Us: Vicarious Traumatization
Author: Joan Zorza .
Source: Volume 03, Number 02, December/January 1998 , pp.21-23(3)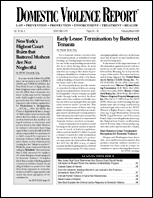 next article > |return to table of contents
Abstract:
Vicarious traumatization is a phenomenon experienced by those exposed to victims of trauma, resulting from the transmission of the original trauma from the victim to those exposed. It is not caused by, though may be aggravated by, the actual and real danger that the perpetrator may pose to the therapist or others. Until recently vicarious traumatization was virtually unrecognized and ignored, even in the domestic violence literature. An early discussion appears in the final chapter of Mary Ann Dutton's "Empowering and Healing the Battered Woman: A Model for Assessment and Intervention". This article discusses this book and others, including Judith L. Herman, "Trauma and Recovery"; Carol R. Hartman, "Nursing Care in a Violent Society: Issues and Research"; Maria Crawford and Rosemary Gartner, "Women Killing: Intimate Femicide in Ontario".
Keywords: vicariously traumatized therapist

Affiliations: 1: Editor, Domestic Violence Report.