Complete Issue
Author: Joan Zorza, Esq..
Source: Volume 03, Number 03, February/March 1998 , pp.33-48(16)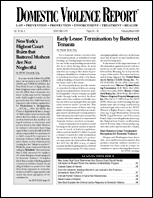 < previous article |return to table of contents
Abstract:
This is the complete issue, Volume 3 Number 3. It includes the full text of all the articles listed above, several of which are inter-related, with hyperlinks from table of contents entries to articles and linked article continuations, to facilitate reading.
Keywords: Brzonkala v. Virginia Polytechnic; Anisimov v. Lake; Crisonino v. New York City Housing Authority; Doe v. Doe, 929 F. Supp. 608 (D. Conn. 1996); Doe v. Father Hartz; Seaton v. Seaton; United States v. Wright; United States v. Bailey; United States v.

Affiliations: 1: Editor, Domestic Violence Report.