From the Bookshelf
Author: Nancy K. D. Lemon.; Joan Zorza.
Source: Volume 03, Number 03, February/March 1998 , pp.39-41(3)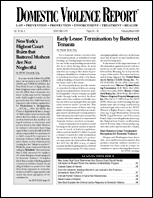 < previous article |next article > |return to table of contents
Abstract:
This column reviews the following publications: "Jaffee v. Redmond: Towards Recognition of a Federal Counselor- Battered Woman Privilege", by Michael B. Bressman and Fernando R. Laguarda; "How Will Battered Women Fare Under the New Welfare Reform?", by Sheryl L. Howell; "Welfare and Immigration Reform: Refusing Aid to Immigrants", by Emily Stubbs; "The Family Violence Option of the Personal Responsibility and Work Opportunity Reconciliation Act of 1996: Interpretation and Implementation", by Wendy Pollack & Martha F. Davis; "Sex, Sense, and Sensibility: Trespassing into the Culture of Domestic Abuse", by Jacqueline St. Joan; "Forum: Mandatory Prosecution in Domestic Violence Cases, Papers by Sheila James Kuehl, Donna Wills, and Linda G. Mills; and "Public Heroes, Private Felons: Athletes and Crimes Against Women", by Jeff Benedict.
Keywords: evidentiary privileges; judicial training

Affiliations: 1: Associate Editor of DVR; 2: Editor, Domestic Violence Report.