Washington Watch
Author: Sheila Wellstone.
Source: Volume 03, Number 03, February/March 1998 , pp.33-33(1)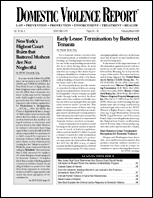 < previous article |next article > |return to table of contents
Abstract:
This column reviews action in Congress. The author addresses the question of how, after the Family Violence Option Amendment passed 98 to 1 on the Senate floor on September 10th, did it get dropped in conference? The Ways and Means Committee Chair, Bill Archer (RTX), and the subcommittee chair, Clay Shaw (R-FL), sent a letter to the Republican conferees threatening to "take this issue to the House and Senate Leadership" if "there is any doubt about whether this provision will be removed from the conference report." At the conference meeting, Rep. Anne Northrup (R-KY) spoke out against the FVO, agreeing with Archer and Shaw that the FVO was just another excuse for women to stay on welfare. She argued that forcing these women to work would provide the means for these women to escape violence. In an effort to address the Republican charges that women would invent claims of abuse in order to stay on welfare, some conferees offered a very narrow and harsh definition of domestic violence.
Keywords: Legal Services Amendment; postponement of introduction of VAWA II

Affiliations: 1: Advisory Council On Violence Against Women.