All Courts to Address the Issue Uphold Constitutionality of VAWA Civil Rights Remedy
Author: Julie Goldscheid.
Source: Volume 03, Number 03, February/March 1998 , pp.33-35(3)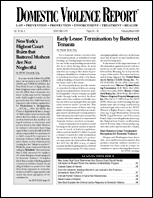 next article > |return to table of contents
Abstract:
Women are using the ground breaking Civil Rights Remedy that was enacted as part of the 1994 Violence Against Women Act ("VAWA") to recover damages from injuries they suffer as a result of gender-based violence such as domestic violence, rape and sexual assault. The initial reported court decisions have primarily addressed the law's constitutionality, responding to defendants' arguments that Congress lacked the authority to enact the law. To date, each of the six federal courts to address the question have ruled that the Civil Rights Remedy is constitutional. These courts reasoned that Congress properly enacted the Civil Rights Remedy under its Commerce Clause powers based on Congress' recognition that gender-based violence against women has a substantial effect on interstate commerce. Those courts distinguished the United States Supreme Court's 1995 decision in U.S. v. Lopez, which struck down a law that criminalized gun possession near schools, finding that activity near schools was not sufficiently connected with interstate commerce to warrant federal legislation. In contrast to Lopez, Congress enacted the Civil Rights Remedy in response to four years of Congressional fact-finding that revealed the dramatic and direct impact of gender- based violence on interstate commerce. Each of these decisions is summarized.
Keywords: Brzonkala v. Virginia Polytechnic; Anisimov v. Lake; Crisonino v. New York City Housing Authority; Doe v. Doe, 929 F. Supp. 608 (D. Conn. 1996); Doe v. Father Hartz; Seaton v. Seaton; United States v. Wright; United States v. Bailey; United States v.

Affiliations: .