Complete Issue
Author: D. Kelly Weisberg.
Source: Volume 20, Number 01, October/November 2014 , pp.1-16(16)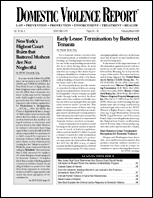 < previous article |return to table of contents
Abstract:
This is the complete issue, Volume 20 Number 1. This special issue focuses on Firearms and Domestic Violence, a topic of considerable importance today, particularly in light of the large number of victims who are killed by firearms as well as the challenges that gun ownership poses for law enforcement in the context of domestic violence. Arkadi Gerney and Chelsea Parsons served as Guest Editors. These two policy analysts are prominent national experts on the subject of gun violence in America. The complete issue version includes the full text of all the articles listed above, with hyperlinks from table of contents entries to articles and linked article continuations, to facilitate reading.
Keywords: Gun violence and fatalities; access to guns; gun law loopholes; guns and domestic abuse.

Affiliations: 1: Editor.