Summary of Case Law: Firearms
Author: Anne L. Perry.
Source: Volume 20, Number 01, October/November 2014 , pp.5-8(4)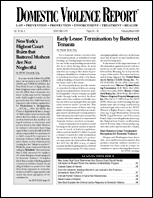 < previous article |next article > |return to table of contents
Abstract:
This column summarizes and discusses recent court cases relevant to gun possession and gun restrictions involving domestic violence, those charged with DV or under restraining orders or orders of protection. James v. State creates an opportunity for California legislators to incorporate the permanent gun ban for domestic violence offenders found in federal law in lieu of the state's current gun ban of 10 years for certain enumerated misdemeanors because inconsistencies between federal and state laws are problematic for enforcement and confusing to those convicted; Chovan 's outcome, and its review of other circuit decisions, demonstrates yet again that the government's interest in keeping guns out of the hands of domestic violence misdemeanants is a substantial one that justifies limits on the constitutional right to bear arms, and undoubtedly saves lives. In the Matter of Nath highlights the New Jersey court's sophisticated understanding of the causal connection between domestic violence, access to firearms, and alcohol, and what that means to public safety.
Keywords: James v. State , 2014 WL 4198042 (Cal. Ct. App. 2014); U.S. v. Chovan , 735 F.3d 1127 (9th Cir. 2013); State v. Poole , 745 S.E.2d 26 (N.C. Ct. App. 2013); In the Matter of Nath , 2014 WL 814019 (N.J. App. Div. 2014).

Affiliations: 1: Contributing Editor.