State Laws to Prevent Domestic Abusers From Having Access to Guns
Author: Lindsay Nichols.
Source: Volume 20, Number 01, October/November 2014 , pp.3-5(3)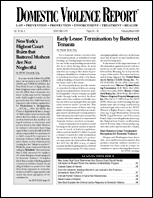 < previous article |next article > |return to table of contents
Abstract:
The federal laws intended to prevent access to fi rearms by domestic abusers have significant limitations. This article describes efforts at the state level to adopted laws that restrict access to firearms by domestic abusers; many of these laws go well beyond what federal law does. As an advocate for gun violence prevention for the past eight years, the author has focused on state and local legislation, and has developed expertise in the areas of domestic violence, background checks, licensing laws, and guns and mental health.
Keywords: Firearm prohibition databases; prohibiting domestic violence misdemeanants from purchasing or possessing firearms or ammunition

Affiliations: 1: Law Center to Prevent Gun Violence.