How Gun Violence Affects Women and Four Policy Solutions to Better Protect Them
Author: Arkadi Gerney.; Chelsea Parsons.
Source: Volume 20, Number 01, October/November 2014 , pp.1-9(9)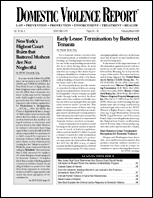 next article > |return to table of contents
Abstract:
Reducing abusers' and stalkers' access to firearms is critical to reducing the number of women murdered in this country. This idea is not new: Congress first acted 20 years ago to strengthen our gun laws to prevent some domestic abusers from buying guns. But we are still a long way from having a comprehensive system of laws in place at both the federal and state levels that protect women—and children and men—from fatal violence in the context of intimate and domestic relationships. This article explores the intersection of intimate partner violence and gun violence and proposes federal and state policies to reduce abusers' access to guns and prevent murders of women.
Keywords: Gun possession; background checks; National Instant Criminal Background Check System; prohibited classes

Affiliations: 1: Center for American Progress; 2: Center for American Progress.